Orange County
Wills & Trusts Attorneys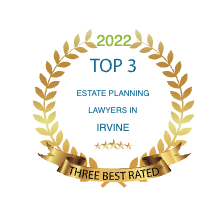 Top 3 Estate Planning Lawyers In Irvine Award
OC Wills & Trust Attorneys is a leading estate planning practice serving clients in Irvine, Huntington Beach, and Orange County, California. We have been advising individuals, couples, and families on wills, trusts, and other essential estate planning tools since 2008.
While it's common for people to put off planning their estates because we lead busy lives, today's the day to start. When you meet with us, you will work directly with an experienced estate planning attorney who will tailor a plan to your unique needs and objectives. Contact our office today to arrange a consultation.
Learn More About Our Firm
Estate Planning Strategies
Experience
Serving the community and completing thousands of Estate Plans since 2008, our team has developed the best formula to help facilitate this process for you and your family.
Attentiveness
You are assured of a timely call back and a response to your questions and concerns.
Efficiency
Our attorneys and staff work together to make sure that your customized estate plan can be completed within one week's time from your initial meeting.
Access
You have access to us no matter where you live, or may be at the time of your appointment.  We are available for you in-person, virtual or via phone.
Transparency
Unlike many other law firms, there are no hidden fees.  We are open and upfront with you on all that you are receiving with our services.
Reputation Matters
See what our past clients have to say; check out our 5-star reviews on Yelp and Google.
Trust In Your Trust Attorney
We understand the importance of entrusting the future of your loved ones with people that you trust. Know that our attorneys and staff always have your best interest at heart.
Client Testimonials
Working with Emily and Brian were such good experiences.
Working with Emily and Brian were such good experiences. Introduction session was very informative. Lots of questions were answered. Concepts that I would have no idea about were introduced and explained to me clearly and relevant. These concepts became very basic, natural and important to know after the explanations. Process of setting up documents were smooth and clear despite large volume of papers and many signatures. Second section was productive. I like the follow-up emails also answering questions that I run into when building up the contents into the Trust. Overall, it was a great experience.
..we were able to get it done quickly and easily.
My wife and I recently worked with Brian and his team to create a family trust. Everything was explained in emails ahead of time, they were available for questions, and we were able to get it done quickly and easily. Brian also gave us clear and easy-to-follow instructions for funding the trust (e.g., recording the deed) and followed up to see if there was anything else we needed. I'd definitely recommend OC Wills & Trust Attorneys to anyone looking to provide for their family.
They did an excellent, thorough job quickly and competently.
We were co-trustees of an existing trust when we learned that trust did not protect the interests of the survivor trustee when the first one died. We asked OC Wills and Trust Attorneys to start from scratch to create a will that would protect the surviving trustee. They did an excellent, thorough job quickly and competently. We were impressed by their business-like but friendly approach. We recommend them without reservation.